Kicked Novagrade's butt!
I am the new owner of a legendary "vintage" spotting scope, the Nikon ED82 with a 30x DS (digiscoping) eyepiece. I love it. I'm also a Nikon DSLR (and now Z) photographer. One of the aspects of the ED82 "kit" when I bought it was that it came complete with the Nikon UBK bracket and FSA-L1 adapter enabling Nikon cameras to attach directly to the scope. What could be better?
I also am an early adopter of technology, so I just purchased Samsung's Galaxy S23 Ultra with the super-ridiculous 200 megapixel camera. Naturally, I had to try both.
Before I could use the Samsung on the scope, I had to buy an adapter to "hold the phone" (sorry, I could not resist). 20 minutes of research later, I'd ordered Novagrade's "Double Gripper" only finding MSM's ACCUVIEW a little later (and out of stock at the time). I pre-ordered it anyway. I'm an engineer, so I believe in a good bake-off.
While I waited for the ACCUVIEW to arrive, I had sufficient time with the Novagrade to appreciate its build quality (also excellent) and frustrate myself a bit with attaching and aligning it to the scope. I'm not here to trash the Novagrade, it's an excellent product, but I found that attaching it to the scope and tightening the compression ring invariably "jostled" the scope off its target. Fine adjustments to the phone's position presented their own challenge. I waited (somewhat) patiently for the ACCUVIEW to arrive. Hanna kept me very up to date with shipping progress.
Right out of the box, the build quality presents itself immediately. Not as heavy-weight as the Novagrade, but every bit as precisely machined with the clear advantage of its 3(!) axis fine adjustments. I dropped my "important" task to test it out, and I could not be more delighted with the results.
Attaching, removing and reattaching the unit with phone attached can be done quickly, reliably and precisely. Love it.
Fine tuning the alignment on the centerline of the scope to minimize vignetting was dead simple.
First shots looked great!
Then I discovered just how important that Z axis adjustment is to us with fine eyepieces and high-resolution wide-angle cameras in our smartphones! Until I discovered that, I was pinch-zooming to fill the screen. Then I started backing the phone away from the eyepiece and was BLOWN AWAY by the image as it nearly filled the screen.
Remote control in hand, I snapped my first few images and reviewed them.
I'm keeping the ACCUVIEW and have already informed Novagrade that I'm returning their Double Gripper. Again, Novagrade's Double Gripper is an excellent unit, but the ACCUVIEW just kicked its butt. It wasn't even close.
Tight tolerances
I have bought a few different phone holders the past this one by far is the best. Everything is very easy to control and has very good tight micro adjustments. Which is really nice to be able to line up my phone lenses to the telescope easily.
Very Precise!
Work well, and I enjoyed the heavy-duty build and precise movement capabilities. The little rubber pads that grip to the binoculars/scope did start to shift a little after multiple uses.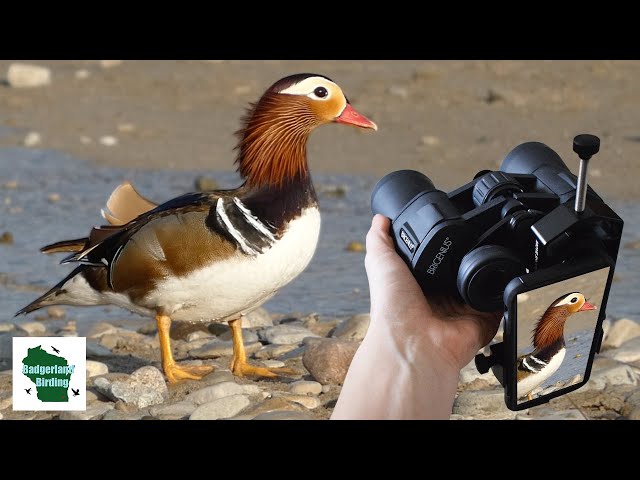 The Best Phone Adapter
MSM was not happy with the quality of the cheap phone adapters available so they set out to design their own. They did a great job. From the first time I tried it I could tell it was a quality piece of equipment and after shooting tonight I really have to applaud the work they did. The adapter has knob adjustments in all 3 dimensions to let you smoothly and accurately move the phone into position. It really is a pleasure to use.
Great Product: I'm Totally happy with it.
I am frequently unsatisfied when I buy stuff online; there's usually something wrong. Not this time. I am completely happy with MSM High Precision Adapter. The adapter does everything as promised in the ad and more. At first, I was afraid for my expensive iPhone xi Pro to be hanging off from the end of my spotting scope ( without a protective case) on an adapter. However, when I put the gig together and shook it around a bit etc everything was rock solid and now I do feel confident that there's no chance of the phone falling from the adapter.The adapter also fits all my eyepieces. The price is also unbelievably great especially when I think of the over $200 I wasted on the Nova Grade Double Gripper Digiscopping adapter, which totally failed to do the job.
Digiscoping Adapter
iPhone 6 and wanted to do some bird photography without spending $5000 on a DSLR lens. My first run was very good. Having the ability to adjust in three axis made getting focus a snap. Next up is the moon, and this should be perfect for that. It's also light, so my spotting scope stayed very steady. My wife has a iPhone SE, and we don't need to buy a second adapter to fit her phone., This is the best I've found so far!
Fantastic. Easy To Use.
I tired other, cheaper, smartphone adapters. None worked well. I finally went for the expensive adapter and it works well! Ease of use is fantastic. I got good pictures of the moon, Jupiter and Saturn with my iPhone 8 the first night I tried it. If you're thinking of getting a telescope adapter for your smartphone, save some money and get this one first; don't waste your money on cheaper ones you'll just throw away after you eventually get this one.